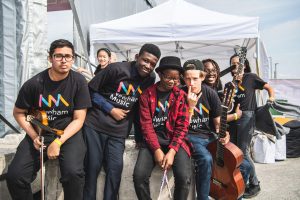 At the Docks
The Greenhouse Theatre Festival for Young People
Commissioned by the Royal Docks Team, this free one-day festival curated by and for the young people of Newham aims to spark a passion for the arts and inspire more sustainable lifestyles.
The festival will feature a diverse line up of local music, creative workshops, activities, games, and art – all of which will be zero waste and free to attend for all, with workshops and activities delivered by young people aged 14-30.
Music
STEEL PAN BAND
2pm
NEWHAM MUSIC COLLECTIVE
4pm
PROTEIN DANCE
Showcase of the workshop
4.30pm
BRIDGING SOUNDS ORCHESTRA
5pm
UD MUSIC INCUBATOR SESSION
6pm
LOTTIE & JAMIE
UEL Student band
7.30pm
Workshops
ZINE MAKING (12-4pm)
Using scrap art, images, text from second-hand books, magazines and current papers and responding to the material, you are invited to express yourself creatively by contributing a page for The Greenhouse Zine. The master zine will be digitally reproduced, and each participant will receive a free copy.
Facilitated by Loose Associations.
BIKE REPAIRS (12-4pm)
Under mentoring of an expert bike mechanic, young participants can pick a discarded bike, fix it and keep it. Those who arrive by bike can receive a free service.
BMX (1-3pm)
Workshop by Wheel Style Co. delivering challenges on BMX bikes for every skill level.
HULA HOOPING (1-2pm)
One-hour intensive physical playful musical workshop.
Facilitated by Marawa the Amazing Team.
STEEL PAN DRUMS (2.30-4pm)
Three 30-minute sessions for groups of 10 to jam on steel pan drums.
NEWHAM-MUSIC OPEN CHOIR WORKSHOP (3pm)
Choir practice open for all to join and learn the latest repertoire created for BBC Earth.
PROTEIN DANCE (3.30-5pm)
90-minute creative movement workshop providing a chance for four young creatives to assume the role of a dance coach. Culminating with a showing.

Activities
Flea market with a fashion swap shop with Thrift Factory
Sea Change exhibition
Lawn games
Photo booth
Food & drink
Part of Sea Change and The Greenhouse Theatre which are both part of At the Docks 2023 – a brand-new summer season of arts, culture, and events at the Royal Docks.
For your visit
Attractions
City Hall
One of the world's most sustainable buildings is also a striking landmark.
Food & Drink
The Oiler Bar
Bars on boats are always a good idea, especially when they have a cocktail bar downstairs.
Food & Drink
Yi-Ban
This Chinese restaurant occupies a floor of the London Regatta Centre overlooking the Docks, meaning diners can plane-watch over a plate of dim sum.