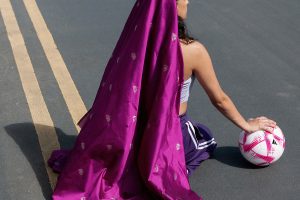 Royal Docks Summer Programme
Versus Or
With a vibrant mix of contemporary dance, hip-hop and Bharata Natyam, dancers unite to show their collective strength and resistance just like a women's football team. Choreographed by Chandenie Gobardhan, with music by Charlotte Bickley.
As part of Queens' Roar, this new contemporary dance performance is popping up on Queen's Square, Green Street on 23 July. The choreography is inspired by women's football and Green Street and features football kits designed and made by emerging designers from Caramel Rock.
What to expect
The pop-up dance performances are relaxed and informal, you do not need a ticket and will not be expected to be seated. Each performance last 15 minutes, and there will be 6 performance across the afternoon.
The performances are all taking place outdoors, and whilst we hope for sunshine, we will update our Twitter with any news in case of bad weather. Performances will still go ahead in light rain.
Queens' Roar! is a series of cultural moments inspired by the Women's Euros and Green Street, with its vibrant culture and rich footballing heritage, including a tournament on 16 July.
For your visit
Food & Drink
The Living Room
The Good Hotel's floating restaurant dishes up locally-sourced comfort food with a Spanish twist.
Outdoors
St John's Green
Community garden with allotment and children's play area.
Places To Stay
Moxy London ExCeL
Marriott's boutique brand, Moxy, offers a laid-back alternative with cheerful colours and cheaper rates.