Updated on 24/08/21:
---
Over the past few months, we have been working with our partners to make some much needed improvements to public spaces in and around the Royal Docks. These improvements form part of a long-term strategy to ensure the Royal Docks is an accessible, welcoming and safe space for people who live and work in the area and has been informed by detailed consultation with local people.
Some recent examples include a new and improved footpath along the northern edge of Royal Albert Dock, connecting the full northern edge of Royal Victoria and Royal Albert Dock for the first time in many years, as well as improvements to the lighting and landscaping around Crystal Gardens.
However, it doesn't end there. There are a number of different sites across the Royal Docks which we will be enhancing over the coming months.
Crystal Gardens: this project has now been completed

Millennium Mills site: utility works and maintenance of Silo D (expected works duration, months)

Thames Barrier Park café: fit-out of the park café building (expected works duration, 2 months)
Lawns south-east of Royal Albert DLR station: re-landscaping and utility works expected works duration, 4 months)
Vacant land west of University of London: re-landscaping and utility works expected works duration, 5 months)
Dock Edge Access: unobstructed access along the northern dock edge from the Crystal building down to the eastern end of the docks (although at present the Nightingale Hospital has closed some areas). Gates between the UTC and Building 1000 will be open from 7am to 6:30pm daily throughout September
Dock Edge Lighting
The Royal Docks team has worked on improving safety along the northern dock edge and established new lighting along two areas totalling 500m between Building 1000, LB Newham's HQ, and the University of East London campus. The lighting columns will enable for the dock edge to now be open 24/7 and adds to the Royal Docks improvement works recently finished within the area.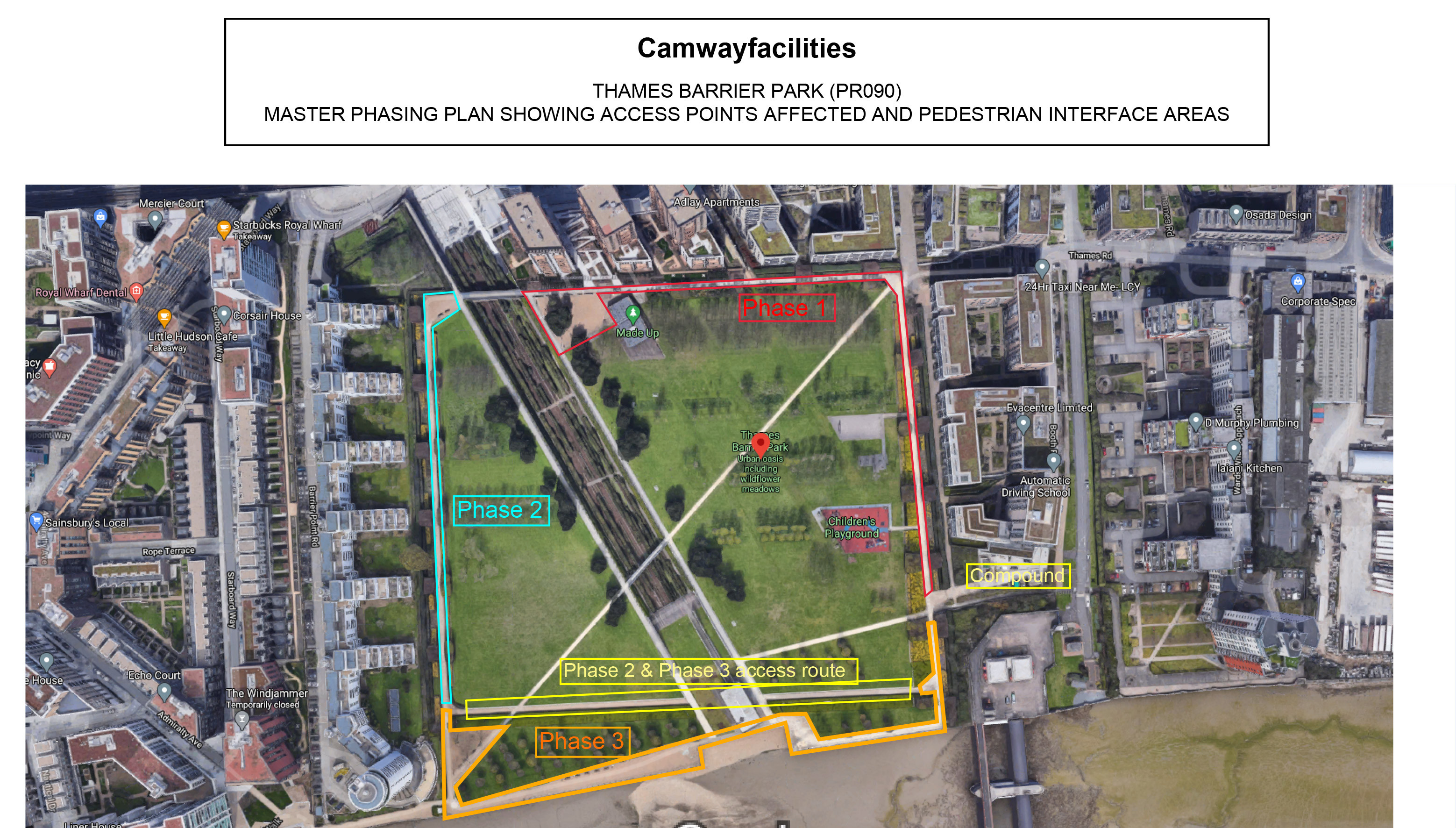 2021 Thames Barrier Park Improvement Works
Thames Barrier Park is receiving a re-fresh, following the consultation undertaken in 2020, with works comprising:
Re-surfacing of perimeter paths
Electrical upgrades
More trees
New benches
Re-designed café terrace
The works will be undertaken in 3 separate phases starting mid-March and lasting until early December 2021, with a minimum of worksite occupation. The individual phases are timed as:
Phase 1: Mid-March – Mid June 2021
Phase 2: Mid-June – End August 2021
Phase 3: End August – Early December 2021
Most green spaces and all facilities will continue to be accessible throughout the year, however some gates will have to be closed according to the individual phase. The work areas are shown in the above picture.