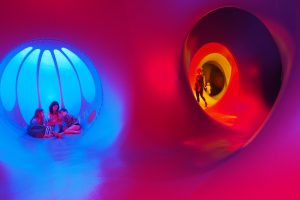 Art & Culture
Daedalum at GDIF
Daedalum is an immersive architectural installation, a fantasia of domes and tunnels crafted by Alan Parkinson of Architects of Air. Using the natural light of the sun, the translucent plastic creates vibrantly coloured spaces. The abstract beauty of this installation is a piece of art that everyone can enjoy. The work is wheelchair accessible and, like everything at the festival, it's free to enter.
Other Greenwich+Docklands International Festival events in the Royal Docks:
Passenger, 26-29 June
Cristal Palace, 6 July
Part of the London Festival of Architecture 2019.
For your visit
Activities
Royal Docks Adventure
Power boats, rowing boats, dragon boats, canoes – everything you need for an afternoon on the water.
New Arrival
Art & Culture
Making Space: Take Your Place
This final part of Jessie Brennan's public art series was created in collaboration with the sports communities at Royal Docks Adventure.
Places To Stay
Hampton by Hilton
A reliable, upper mid-range option just east of Connaught Bridge.